Men's Gymnastics Discusses Its Pep Rally Performance
The Pep Rally is traditionally one of the highlights of THON weekend, with many of Penn State's athletic teams taking the stage and showing off their best dance moves, or lack thereof in some cases. The Men's Gymnastics team took home the prize of the Pep Rally champion at THON 2012 in a mind boggling performance, but could not perform in THON 2013 due to an away meet that weekend.
Though they did not take the prize as the winning team, the men's gymnastics team flipped, twisted, and danced its way to a phenomenal performance at the Pep Rally — an inarguable second place. We caught up with Captain Adrian Evans, a senior from Boulder, Colorado, to learn a bit more of what went into putting the performance together.
Onward State: How did it feel to perform in front of such an exuberant audience at THON 2014?
Adrian Evans: It's unreal every time we get on stage. I won't do it justice in words. We're honestly so grateful that we get to be a part of such an amazing event. The performance went pretty well. We had a few mistakes but we had so much fun, which is obviously the most important thing.
OS: What went into preparing for the pep rally performance?
AE: Well, none of us can dance, so some guys from R.A.M. Squad came in to choreograph the "dance" and help us out. Then we practiced for about a week. Preston Gall and I were mostly in charge of getting everyone on the same page. Preston asked R.A.M. Squad to help us out, which was huge.
OS: You guys are in the middle of season. How did preparing for the pep rally work into your practice schedule?
AE: It was definitely a little tough, in part because some of our teammates are competing in Las Vegas so we aren't working with the entire team. We practiced after our lighter practice days, so it wasn't too difficult to fit in the time or anything.
OS: What was the most difficult part of the routine?
AE: Pretty much any part that requires any rhythm or dance is pretty hard for us, so the opening of the routine was probably the hardest.
OS: Who on the team is/are your strongest dancer(s)?
AE: Franz Card is hands down our best dancer. I'm amazed he hasn't been on some kind if dance competition show yet. Tristan Duverglas is good, too, but Franz is #nextlevel
OS: If the team didn't do flips and whatnot, what do you think the performance would've been like?
AE: We'd be really hopeless without flips. It would be a minute and a half of awkward clapping probably.
OS: Gymnastics is primarily a one-man sport when it comes to performing. How did you guys adjust to moving together?
AE: I'm pretty sure we still don't move together very well, but it was fun to do something different that the usual individual routine.
OS: You guys had an amazing performance at THON 2012. Did you go into this year's performance trying to top that performance?
AE: I don't think we went in trying to top it or anything. Two years ago everything came together really well and a lot of guys went above and beyond the call to make that happen. It's a ton of fun to be involved with pep rally and everything's so that's our main goal: Just have fun.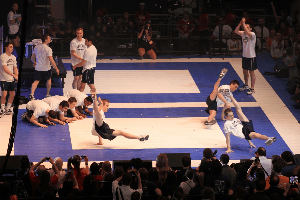 Your ad blocker is on.
Please choose an option below.
Sign up for our e-mail newsletter:

OR
About the Author
Do you yearn for cigarette ash-dusted grilled cheeses from "quintessential shithole" Grillers? Or a night out at G-Man with your old frat bros? Or have evenings of drinking felt incomplete ever since Canyon moved across Beaver and got rid of its sticky blue picnic tables?
It's hard not to draw parallels between this year's lacrosse team and a couple other Nittany Lion teams that have used the City of Brotherly Love as a launching pad to sustained success.