Nittany Lions Have Fifth Most Super Bowl Player Appearances
Penn State football players have made the fifth most appearances of any college's athletes in Super Bowls according to an article from CBS Sports.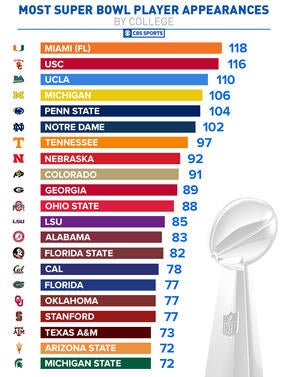 104 Nittany Lions have played in the Super Bowl — 14 behind the Miami Hurricanes who came in at the top spot. USC, UCLA, and Michigan are also ahead of Penn State with 116, 110, and 104 appearances, respectively.
38 Nittany Lions have won a total of 55 Super Bowl rings. Jack Ham, Franco Harris, and Matt Millen lead the list with four each.
Last year, Jordan Norwood became the latest Super Bowl winner from Penn State after the Denver Broncos took down the Carolina Panthers 24-10. Norwood set a Super Bowl record in the game for the longest punt return at 62 yards.
Not included in Penn State's tally is New England Patriots' wide receiver Chris Hogan.
The former Penn State lacrosse player gives Monmouth its first-ever player to appear in a Super Bowl after Hogan used his last year of college eligibility to play for the Hawks' football team as a wide receiver and cornerback before signing on as an offseason/practice squad player for the 49ers, Giants, and Dolphins.
He finally latched on with the Buffalo Bills for three full seasons after earning an active roster spot from the team's practice squad in December of 2012. In 2016, he signed with the Patriots and had a stellar season capped off by his AFC Championship performance — scoring two touchdowns and racking up 180 yards receiving, which is a Patriots' playoff record.
Outside of Hogan, no other Penn Staters are participating in Super Bowl LI.
Your ad blocker is on.
Please choose an option below.
Sign up for our e-mail newsletter:

OR
About the Author
Miles Sanders, Trace McSorley, and Ricky Slade ran wild Friday night against Illinois, leading the Nittany Lions to a lopsided victory.
Sanders' 6.97 yards per carry as Penn State's starting running back is actually higher than his 6.7 yards per carry as Saquon Barkley's backup.