Penn State Basketball's Top Performances Vs. Big Ten NCAA Tournament Teams
Nothing beats NCAA Tournament time — except, you know, when your beloved university actually makes the Big Dance. Penn State unfortunately left its dancing shoes at home this year meaning the Nittany Lions won't get to take part in all the March Madness festivities. Penn State's seen better days on the court; but there were plenty of moments throughout the season that bode well for the team down the road.
We took a look at some of the team's best performances against Big Ten opponents that made the tournament.
Mike Watkins' Double-Double Against Minnesota
Mike Watkins had one of his more dominant performances of the season in Penn State's victory over then-No. 24 Minnesota. The redshirt freshman gave eventual Big Ten Defensive Player of the Year Reggie Lynch trouble in the paint all afternoon in helping the Nittany Lions take down their first ranked opponent of the season.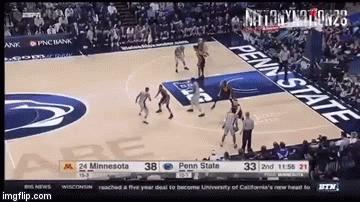 Watkins had his fair share of plays throughout the game — but none bigger than this commanding slam off a perfectly-executed pick-and-roll to get Penn State back into the contest. Fans better get used to plenty more plays like this in year two.
Lamar Stevens' Jam Over Caleb Swanigan And Tony Carr's Takeover In Near Upset Of Purdue
Freshman point guard Tony Carr's had some NBA-caliber moments in his debut season in Happy Valley. He put his skills on display in commanding fashion in Penn State's near upset of then No. 14 Purdue late in the season after dropping 21 points, seven assists, and five rebounds on the current NCAA Tournament No. 4 seed. There was no doubt Carr could play heading into the contest — but he proved he could play with the big boys as he scored 12 points in the final four minutes of regulation before falling to the Boilermakers' stable of three-point assassins in overtime.
But no moment was better than Lamar Stevens absolutely schooling eventual Big Ten Player of the Year Caleb Swanigan at the rim. Coming off a screen set by Watkins, Stevens opted to keep the ball and challenge one of the toughest defenders in the country in Swanigan in his territory. The result? One player ending up on Sportscenter for all the right reasons. The other? Not so much.
Nazeer Bostick's Emphatic Swat Against Maryland
Freshman guard Nazeer Bostick carved a role in Pat Chambers' rotation during the latter half of his season in part due to plays like this. He shut the door on the then-No. 21 Terps with a big swat at the other end after fighting for a — and converting — a tough layup moments earlier to essentially seal the upset.
Maryland now gets ready for Xavier as a No. 6 seed in the tournament. The team had its own share of excitement after being one of the last teams to get in — and celebrated accordingly after hearing its name called.
What a feeling! #FearTheTurtle #LetsDance | #SelecationSunday https://t.co/nPEu5Mfmk0

— Maryland Basketball (@TerrapinHoops) March 12, 2017
There are plenty more highlights to be had — but as you're watching the NCAA Tournament, remember these images; specifically when filling out your brackets.
Your ad blocker is on.
Please choose an option below.
Sign up for our e-mail newsletter:

OR
About the Author
All in all, it's important to remember that there's really no such thing as bad dancer mail.
We were blown away by your Penn State weddings, complete with shakers, Lion Shrine cakes, and a few Blue Band performances.