Finance Committee Recommends $48.3 Million Plans For Lasch Building Renovations
Penn State's Board of Trustees Committee on Finance, Business, and Capital Planning voted Thursday to officially recommend finalizing plans for renovations and additions to the Lasch Football Building.
Friday afternoon, the university's full Board of Trustees will vote on the measure to officially finalize the renovation plans. If you're curious, you can tune in from home through a WPSU Radio stream.
The first phase of the $48.3 million project will address "functional and programmatic requirements" to improve the facility's functionality and meet the football team's needs over the next 20 years.
The multi-phased project includes plans for an expansion to the building's first-floor weight room, upgrades to strength training and conditioning equipment, a new lobby, and upgrades to mechanical and electrical systems. It also features a new hydrotherapy pool designed to help student-athletes rehab under supervision from trainers and physicians.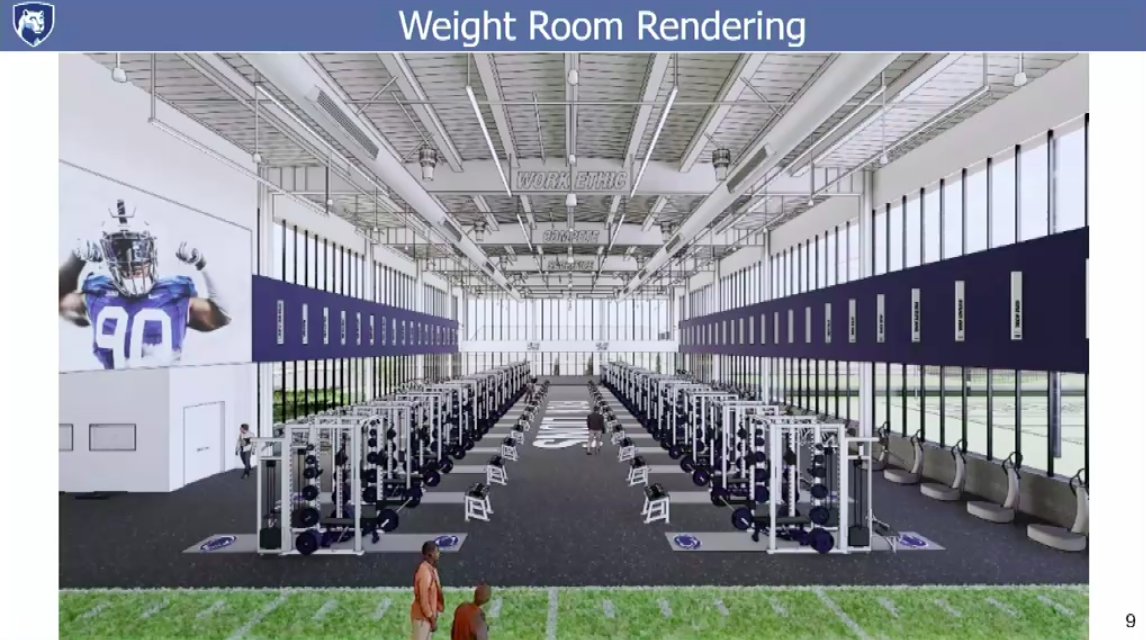 Additionally, the proposed Lasch Building upgrades include a development suite for Penn State's "5th Quarterback Program," which aims to help student-athletes transition from high school to college to perhaps even the professional ranks through life skills and education programs.
"This next phase of those renovations will continue to provide our student-athletes with the resources needed to compete at the highest level on and off the field," head coach James Franklin said in a release. "The addition of the student-athlete development suite for our 5th Quarter Program will provide a world-class facility to prepare our guys as they transition to Penn State and prepare them for life beyond football."
On Thursday, Vice President for Intercollegiate Athletics said approximately $8 million of the project's costs were raised through philanthropy. The rest would be taken on as either taxable or untaxable loans. No tuition dollars or general funds are financing the proposed upgrades.
"We have continued to invest in our athletics facilities the last several years, and the Lasch Building has been a big part of that," Barbour said. "We always strive to provide our student-athletes quality facilities which will prepare them for a lifetime of impact, while competing for national championships in all 31 sports…We will continue to fundraise for this renovation, as well as future projects in our football facilities, and will need the support of our entire Penn State community."
The proposed Lasch Building renovations are included in 2017's Penn State Athletics Facilities Master Plan, which covers 20 years of planned renovations and construction — notably, controversial upgrades that could reduce Beaver Stadium's seating capacity.
Penn State initially paused plans for renovation last year amid the coronavirus pandemic. Following a reassessment, university officials said delaying the project any longer would "significantly increase" renovation and expansion costs.
Your ad blocker is on.
Please choose an option below.
Sign up for our e-mail newsletter:

OR
About the Author
We captured the Nittany Lions' victory in front of a sold-out crowd of 15,998 at the BJC.
We captured the Nittany Lions' victory in front of a sold-out crowd of 15,998 at the BJC.
The Nittany Lions kept their undefeated streak alive after beating the Hawkeyes Friday.
For Charlie Blenko and Abbey Foust, "The Grandaddy of Them All" was just the exclamation point to their road trip of a lifetime.