Blue-White Game [Live Coverage]
6:24 p.m. — That should do it for now. There are stories on the site about the quarterback competition, Akeel Lynch, Bill O'Brien, and recruit DeAndre Thompkins. A photo gallery from Dave Cole can be found here.  We will have some follow up stuff in the coming days and week and sincerely hoped you enjoyed our live coverage from Beaver Stadium.
6:14 p.m. — As mentioned before, Penn State's Class of 2014 grew to five recruits today when the Nittany Lions received a huge commitment from DeAndre Thompkins, a wide receiver from Swansboro, North Carolina. Story, with video highlights, here.
5:24 p.m. — This was overlooked earlier but spring award winners were announced during today's game. C.J. Olaniyan and Jordan Lucas took home the Jim O'Hara award for Most Improved Defensive Player. Ty Howle won the Red Worrell award for Most Improved Offensive Player while Miles Dieffenbach and Mike Hull won the Frank Patrick Total Commitment Award.
5:15 p.m. — Redshirt freshman running back Akeel Lynch took an unconventional journey to Penn State that began in Canada. Today, his dream of playing in front of fans at Beaver Stadium finally came true. Story here.
4:54 p.m. — Bill O'Brien surprised everyone — including his players when he was mic'd up during today's game. Both the coach and the fans in attendance seemed to enjoy it. Story here.
4:42 p.m. — In a bit of recruiting news, DeAndre Thompkins, a wide receiver from Swansboro, North Carolina, verbally committed to Penn State earlier today, bringing the Class of 2014 to five commits. Mark Allen, Nick Scott, Troy Reeder, and Troy Apke are the other committed prospects. We will have a story on Thompkins soon, but know that this is a big get for the Nittany Lions.
4:38 p.m. — Our main recap discussing quarterbacks play, quotes from O'Brien, and some game and roster notes is available here. A few more stories are coming shortly.
2:52 p.m. — We're back from the postgame media room. For full updates check out the Onward State Twitter feed. Stories are coming soon but a couple quick hitting points:
Bill O'Brien has no plans to use a two-quarterback system but is also not close to naming a starter at the position.
Adrian Amos will enter training camp as a starting safety after playing corner the last two years, according to defensive coordinator John Butler.
Bill O'Brien downplayed Ficken's struggles today, mentioning that his regular holder, Ryan Keiser, was not handling holding duties today.
O'Brien is off to Chicago on Monday for a meeting to talk about NCAA recruiting rules. "That will be fun, I'm really looking forward to it," he joked.
More coming within the next few hours.
1:45 p.m. — The 2013 Blue-White game is in the books with the defense defeating the offense 67-47. Stay with us for post game quotes from O'Brien and players with recaps to follow.
1:32 p.m. — On a fourth down play from the 5-yard line, Ferguson found Richy Anderson in the end zone with a nice throw. The quarterback stats are almost identical so far with both signal callers doing some good things.
1:27 p.m. — Along with Lynch, redshirt sophomore Deron Thompson is having an excellent day on the ground with 97 yards on 12 carries. While Thompson had not been heard from much before today, the spring game always provides opportunities for a few unknown players to get some work and try to prove something.
1:18 p.m. — Bench looked extremely poised to begin the third quarter. He was 4-6 passing on the drive that concluded with 6-yard touchdown pass to Brent Wilkerson. The defense leads the offense 47-39 with Ferguson back under center now.
1:13 p.m. — The second half begins in entertaining fashion. Bill O'Brien is having some fun on the sidelines, calling out play calls to the crowd and leading WE ARE… chants encouraging fans in attendance to be louder as they respond.
12:59 p.m. — Some pictures from pregame warmups and the first half from our photographer Dave Cole.
12:55 p.m. — One half is in the books with the defense leading the offense 47-30. Sam Ficken missed a field goal — into the wind — wide left with a few minutes remaining in the second quarter. Brad Bars has two sacks for the defense while Ferguson has established a nice connection with tight end Jesse James on offense.
12:40 p.m. — Ferguson connected with tight end Jesse James in the back of the end zone on a 27-yard touchdown pass a few minutes ago. The defensive line has looked very good so far, but a bright spot for the offense has been Lynch who already has 73 yards. There is a good chance Zwinak is done for the day which should mean plenty of opportunities for Lynch.
12:24 p.m. — The first quarter has come to an end with the defense leading the offense 23-15. A big bright spot for the offense has been the redshirt freshman, Lynch, who already has 23 yards and a touchdown on four carries.
 12:18 p.m. — The offense got off to a nice start in its first series with Steven Bench under center. Some nice runs by Zwinak, Lynch, and Robinson on an end-around got the Nittany Lions in the red zone where Lynch scored on a 1-yard touchdown. Two drives with Tyler Ferguson quickly stalled. Austin Whipple is now under center. The offense currently leads 15-14.
11:56 a.m. — Just about set to go here from Beaver Stadium. In addition to the live updates, be sure to follow our stat tracking charts further down on the page.
11:30 a.m. — The Nittany Lions are practicing some kick and punt coverage drills on the field. The entire special teams unit will be worth keeping an eye on today as they look to improve on an inconsistent 2012 season.
11:19 a.m. — Some incoming recruits have made the trip including Tanner Hartman, a guard from Virginia.
#beaverstadium #WeAre #PSU instagram.com/p/YVMfBElezC/

— Tanner Hartman (@t_hartman123) April 20, 2013
11:10 a.m. — Players are going through pregame stretches with kickoff less than 50 minutes away. Strength and conditioning coach, Craig Fitzgerald, is wearing his signature T-shirt and shorts, to no one's surprise.
10:57 a.m. — Wide receiver Allen Robinson and tight end Jesse James grace the cover of Penn State's spring media guide.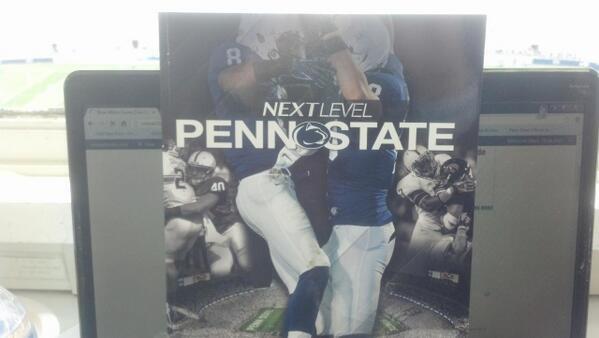 10:50 a.m. — Quarterbacks are out warming up as "Shipping Up to Boston" blares through stadium speakers and fans begin to file in.
10:40 a.m. — The sun is now shining over Beaver Stadium. Fingers crossed that it stays this way and this is the last weather update we have to provide.
10:20 a.m. — Penn State Sports Information Director Jeff Nelson has the following injury update in a tweet sent a few minutes ago.
Among Lions unlikely to play in B-W Game due to injuries: Bill Belton, Adam Breneman, Kyle Carter, Garry Gilliam, DaQuan Jones

— Jeff Nelson (@GoPSUJeff) April 20, 2013
10:11 a.m. — Good morning from Beaver Stadium. Sunny skies early on have given way to clouds and even some snow flurries. Everything is pretty quiet right now, but a few players have taken to the field for warmups.
 7:44 a.m. — Happy Blue-White weekend and welcome to a cold but sunny Happy Valley. We should be set up in Beaver Stadium by 10 a.m. to start providing coverage. Until then, check out some of our plans and game information below.
___________________________________________________________________________________
Tracking Stats
Today presents the first opportunity to watch quarterback hopefuls Steven Bench and Tyler Ferguson stake claims for the starting job. While the competition will not be decided today and many other elements outside of statistics including pocket presence, command of the huddle, and grasp of the playbook will impact the decision, we will be keeping track of both signal-callers' numbers throughout the game. Our chart will be constantly updated as the day unfolds.
| | | | | | | | |
| --- | --- | --- | --- | --- | --- | --- | --- |
| | Drives | Attempts | Completions | Passing Yards | TDs | INTs  | Sacks  |
| Steven Bench |  4 |  15 |  9 |  99 |  1 | |  2 |
| Tyler Ferguson |  5 |  15 |  9 |  90 |  2 | |  3 |
In addition to the quarterback battle, running back will also be a position worth watching today. Bill Belton is out of action due to injury but stats for Zach Zwinak and Akeel Lynch can be followed using the chart below.
| | | | | | | |
| --- | --- | --- | --- | --- | --- | --- |
| | Carries | Yards | Longest run | No gain/Yards Lost | Fumbles | Touchdowns |
| Zach Zwinak |  2 |  16 |  16 |  1 | | |
| Akeel Lynch |  13 | 83 |  27 | | |  1 |
All stats can be viewed here.
_______________________________________________________________________________________________________
34 days and 14 practices later, Penn State has arrived at today's Blue-White game.
Fans will be able to get their first look at Bill O'Brien's 2013 squad as the Nittany Lions conclude spring football in Beaver Stadium. Kickoff is set for noon with the contest airing on Big Ten Network.34 days and 14 practices later, Penn State has arrived at today's Blue-White game.
As the day unfolds, we will be frequently updating this page to bring you the most comprehensive Blue-White coverage from pregame warmups to postgame recaps and reactions from players and coaches. In between, we will be providing constant notes and statistics throughout the game.
The page will be maintained by sports editor Drew Balis (@drewBbalis) along with reporters Bobby Chen (@B__Chen) and Katie Blitz (@KBlitzpsu). We hope our coverage serves as a constant reference point to keep everyone informed and will attempt to answer any questions people have on Twitter. Some game notes and links can be found below.
Team arrives: 9:30 a.m.
Stadium gates open: 10:30 a.m.
Kickoff: Noon
Television: Big Ten Network
Weather: 45 degrees, Partly cloudy, 10% chance of rain
Scoring System: For the second straight spring, the scoring system will feature an offense (white) vs. defense (blue) format with quarterbacks wearing red no contact jerseys. Points are earned in the following ways:
Offense 
Touchdown = 6 points
Field Goal = 3 points
Big play (15+ yard play) = 2 points
Two Consecutive First Downs = 2 points
PAT = 1 point
Defense 
Touchdown = 7 points
Turnover (Unless TD) = 6 points
Sack = 4 points
Tackle for loss = 2 points
Three-and-Out = 1 point
Injuries: Offensive tackle Garry Gilliam will miss the game with a strained calf. Linebacker Ben Kline (shoulder surgery) is also out of action. The status of defensive tackle DaQuan Jones (back) and safety Stephen Obeng-Agyapong (recovering from shoulder surgery) is up in the air. Along with Obeng-Agyapong and the quarterbacks, tight ends Kyle Carter (recovering from wrist surgery) and Adam Breneman (recovering from a torn ACL) have sported red no-contact jerseys throughout spring practice.
Media Coverage: As previously mentioned, @OnwardState will have live tweets throughout the game — in addition to updates here — with Drew Balis, Bobby Chen, and Katie Blitz in the press box. Photographers Dave Cole (@DaveColePhoto) and Steve Osborn (@Steve5108) will have pictures from the sidelines. StateCollege.com (@StateCollegecom) reporters Ben Jones (@Ben_Jones88) and Mike Poorman (@PSUPoorman) will also have coverage throughout the day.
To read our Blue-White game preview including five things to watch for, click here.
To read the 33-day Onward State/StateCollege.com series, click here.
To read all of our coverage from spring practice, click here.
For a full schedule of Blue-White weekend activities, click here
Your ad blocker is on.
Please choose an option below.
Sign up for our e-mail newsletter:

OR
About the Author
"To any current underclassmen reading this: learn the fight song, cheer loud, and tailgate early. You're lucky to be a Nittany Lion."
"Do you guys like Teen Beach Movie?"
The Nittany Lions went 0-3 in the ESPN Events Invitational over Thanksgiving break, finishing in last place.