Onward Debate: Who's The Better Big Ten Safety, Marcus Allen Or Jabrill Peppers?
As the regular season draws to a close, some big-time players from around the B1G have made their presence felt. For Michigan, Jabrill Peppers finds himself in the Heisman conversation thanks to his ability to play virtually anywhere at any given time at a football field. Penn State's own Marcus Allen has garnered some regional and even some national attention for his performances on defense and special teams, particularly in the Nittany Lions' win over Ohio State on October 22.
While Peppers seems to be the more notorious player around the country and is much more versatile, some people may argue that Allen is better at safety, Peppers' primary position. Our very own Mitch Stewart and David Abruzzese dove into this conversation to try and figure out who is the cream of the crop of the Big Ten safeties.
Mitch Stewart: Marcus Allen
Jabrill Peppers is, without question, one of the most athletic and adaptable players that we've seen in college football. He's an outstanding talent, and deserves all the hype he's been getting as a leader on a Michigan team that currently has themselves in position to challenge for a national title.
However, if we are strictly talking about the ability to play safety, I firmly believe that Marcus Allen is the most underrated player at the position in the whole country. Sure, Peppers plays linebacker too, but when all of our team leaders in our linebacking corps were injured, Allen stepped up big as if he was also playing linebacker.
In what was maybe the turning point game of Penn State's season, Allen racked up an unprecedented 22 total tackles against the Minnesota Golden Gophers, anchoring the defense in the Nittany Lions' comeback victory. He earned co-Big Ten Defensive Player of the Week honors, and was also named Rose Bowl Defensive Player of the Week. He ranks No. 25 among all Power Five conference players in total tackles with 73, an amount that is the sixth-highest among Power Five defensive backs. Meanwhile, Peppers has just 53 tackles, despite dropping down to play linebacker in addition to playing safety.
Allen easily leads the team in tackles (Peppers is second on the team for Michigan), and constantly comes from his spot 12 yards from the line of scrimmage to make stops for little to no gain by the offense. Peppers does that also, but many of his 1 tackles for loss have been from the linebacker position. While Allen does lineup in the box every now and then, most of his plays near the line of scrimmage have come from him speeding to the point of attack from the secondary.
I know that Peppers has the name, and he definitely has stellar abilities fit for the safety position. I just think that Marcus Allen does even more at this certain position, and deserves a lot more national recognition for his efforts.
David Abruzzese: Jabrill Peppers
Mitch raises a few good points here. While I agree most of Peppers' national hype is generated by his ability to make an impact all over the field at multiple positions, I believe Peppers' value is evident in his ability as a natural safety — even if Allen has better statistics.
I'd like to clarify that I firmly believe Allen is among the best safeties in the nation — let alone the conference. I'd put him right up there with Ohio State's Malik Hooker and Peppers, I just feel Peppers edges him out. It's important to remember that, while yes, Peppers does play a good deal of linebacker, Allen also lines up in the box instead of remaining back in the defensive secondary. Both players possess unique physical attributes that allow them to make an impact all over the field, but impact is the key word here.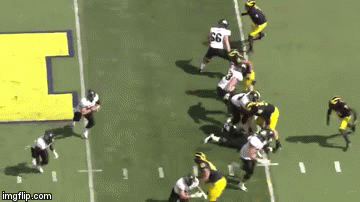 Peppers' ability to break into the backfield and make a big play is what's helped put him on the map, but in my mind, it's also what puts him ahead. Peppers' 11 tackles for a loss have helped Michigan's defense swing games, and that trait is what's made him one of the hottest tickets in football. But its Peppers' patience helps him make these head-turning plays. Watch the play below and observe how patient Peppers is before starting his attack.
Again, it can be argued that Peppers makes this from the linebacker position, but Allen's done much of the same if only in a lesser capacity. His quickness helps him cover roughly 15 yards in a blink of an eye and bring down the quarterback deep in the backfield. Now, it'd be a different story if Allen had a few interceptions to his name, but neither have recorded one at the collegiate level. The analysis of their play is based around their ability to tackle and swing momentum, and it's clear Peppers holds a slight advantage in that category.
Not many players are capable of producing on Peppers' level; his versatility is what has him firmly entrenched in the Heisman Trophy race, and his ability to disrupt has the Wolverines' defense firing on all cylinders. There's not much else to argue; both players are invaluable assets to their respective teams, but Peppers is simply more of a game-changer. The proof is in the pudding.
Let us know what you think in the comments section!
Your ad blocker is on.
Please choose an option below.
Sign up for our e-mail newsletter:

OR
About the Author
Our staffers took to the field to capture all of the action from Penn State's three-game NCAA Tournament run.
Our staffers took to the field to capture all of the action from Penn State's three-game NCAA Tournament run.
The Nittany Lions fell in a heartbreaking overtime defeat despite a six-goal game from TJ Malone.
Losing one leader to injury before the semifinals is a big blow but Penn State's versatility allowed more leaders to emerge, proving resilience is key to its postseason fight.