Penn State Isn't Killing Cats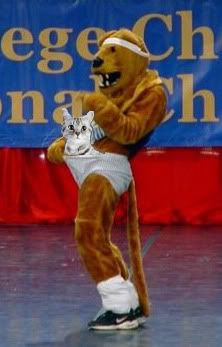 Cat lovers of Penn State can finally let out a purr of relief. You might have caught wind of the Facebook group "Stop Penn State from KILLING CATS." The group claimed that the university was "paying a local pest control company to trap and take feral and lost stray cats to kill shelters…instead of taking them to a local Trap, Neuter, and Return group." Sounds pretty hard to believe coming from a school that has a cat for a mascot, right? That's what we thought too.
A colony of feral cats has slowly begun to inhabit Innovation Park over the past year. These cats aren't your average Garfield or Felix (for all you alumni readers). Feral cats are more aggressive and more likely to attack a person than domesticated cats. They are known to carry diseases such as tetanus, rabies, and cat scratch fever (yes, really). These cats live in the wild with minimal human contact, meaning they can act unpredictably when encountered. What does this mean for the buildings and day care in Innovation Park? Danger.
If there is one thing Penn State doesn't like – it's danger. Naturally, Penn State has taken action against the colony of ferocious felines. The colony is still small and controllable, thankfully. Over the past year, only six cats had to be removed – each being taken to the local Humane Society. There, the feral cats are cleaned up and given the chance to be adopted.
You'd think this problem could be cleaned with just a little Fancy Feast, right? That's exactly the problem. These cats are able to survive mostly due to the food left out by kind-hearted Innovation Park-ers. Should the pubic continue feeding the feral cats, their population will exponentially grow. Penn State released a statement saying:
A pair of breeding cats, which can have two or more litters per year, can exponentially produce 420,000 offspring over a seven-year period.
Penn State is asking for the community's help by asking to not feed any of the wild animals in or around campus (even the squirrels). I mean seriously, getting around between classes is hard enough. Do we really need to add 420,000 cats to the mess?
Your ad blocker is on.
Please choose an option below.
Sign up for our e-mail newsletter:

OR
About the Author
Take a trip down memory lane by reminiscing on the Nittany Lions' most impactful sequences of 2022.
Take a trip down memory lane by reminiscing on the Nittany Lions' most impactful sequences of 2022.
Students and community members gathered Wednesday to rally in support of the protests in Iran and to honor the lives lost during the protests.
From Nittany Lion classics to musical sensation look-a-likes, the Symbol of Our Best didn't miss once this season.