Your Next Football Coach Will Be…
Now that Penn State officially has a committee looking into the matter, we can start discussing who will become the next head football coach. Now, I could regurgitate silly rumors like everyone else, but I won't do that to you. Instead, I've chosen to go a little outside of the box in my recommendations for Penn State's next head coach. Below you will find the men I feel are most qualified for the job, and why. Enjoy.
The favorites
Eric Taylor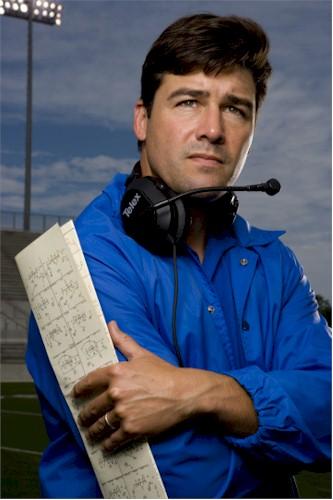 Experience: Head coach at Dillion HS (3 years), East Dillon HS (2 years), and Pemberton HS (?). QB Coach at Texas Methodist University.
Notable Accomplishments: 50-16 as a head coach, three State Championship appearances, two State Championships. Someone apparently cared enough to post that on Wikipedia, so that's good enough for me.
When asked about the job, he said: "Clear eyes, full hearts, can't lose!"
Why he should be the next coach: If you watch Friday Night Lights, then you don't need to continue reading because you already want him to be. If you don't, consider his ties to top-notch high school programs in Texas, talent in developing quarterbacks, and experience building a program from the ground up.
Denzel Washington (as Herman Boone)
Experience: Head coach, TC Williams High School (he probably coached there for a long time, but we only know of the first year).
Notable Accomplishments: "Won four or five championships" as a head coach in North Carolina. Won a State Championship in Virginia, defeating segregation in the process.
When asked about the job, he said: "I don't need no John Brown state troopuhs!"
Why he should be the next coach: Honestly, who else would you have lead your program out of crisis? Plus, his six-play offense wouldn't be much of a departure from the Paterno era, right?
Gordon Bombay
Experience: Head coach, Ducks peewee and Team USA.
Notable Accomplishments: Okay, so he's never actually coached football, but he's won a peewee hockey championship in Minnesota and a Gold Medal at the Junior Goodwill Games. That counts for something, right? He also once, almost, had his own coaching shoe.
When asked about the job, he said: "Ducks fly together!"
Why he should be the next coach: Bombay presents a young and energetic image for Penn State moving forward. Save for a DUI early in his career, his ethical standards are up to par. Also any guy who can find a good hockey player in South Central Los Angeles can flat out recruit.
Danny O'Shea
Experience: Head football coach, Urbania Little Giants
Notable Accomplishments: Defeated the team coached by his Heisman-winning older brother, Kevin, with a team comparable to those Penn State fielded in the early part of last decade.
When asked about the job, he said: "Li-ons, li-ons, help us god!"
Why he should be the next head coach: Even though he lost his top recruit to his brother's team, O'Shea showed an ability to squeeze every last bit of potential out of his team. His offensive prowess cannot be questioned after seeing plays like "Pitch To Johnny (But I'm Johnny!)," "Three Little Pigs," and, of course, "The Annexation of Puerto Rico." Imagine running that with Zordich as fullback.
The rest
Coach Carter, head basketball coach at Richmond High – He increased the graduation rate of Richmond High by approximately 600% after just a year. Plus, a few of his players almost came to Penn State, so there appears to be a recruiting tie there. Wait, no, it was the State Pen they almost went to. Well, then.
Jon Gruden, former NFL head coach and current ESPN "analyst" – JoePa has been calling players "this guy" for years, so Gruden would be a seamless transition in that aspect.
Ed DeChellis, former Penn State and current Navy head basketball coach – You miss this look. I know you do.
Andy Reid, head coach of the Philadelphia Eagles (for now) – Even Reid wouldn't have blown three timeouts on the opening drive of a game like Penn State did against Alabama a few months ago.
Coach Klein, head coach at SCLSU – Hey, the man can recruit linebackers, we know that for sure. He'll fit right in.
John Madden, former NFL head coach, analyst, and Tough Actin' Tinactin spokesman – "BOOM!" Recruits across the country would love to play Madden for at least three years, right? Hmm? Oh they're playing for Madden? Ah, forget it.
Mike Leach, former Texas Tech head coach and swinger of swords – Who wouldn't want to see eleventy billion yards of total offense?
Coach Wittenberg, head coach of everything in "Hey Arnold!" – Pass the ball to Tucker.
Pat Chambers, Penn State men's basketball head coach – Nothing says PURE ENERGY like coaching two teams.
Who will be next? Nobody knows. In the meantime,  follow @NewPSUcoach for the latest (and most entertaining) updates.
Your ad blocker is on.
Please choose an option below.
Sign up for our e-mail newsletter:

OR
About the Author
Relive the highs and lows of Penn State's NCAA Tournament journey through our lens.
Relive the highs and lows of Penn State's NCAA Tournament journey through our lens.
An overtime goal from the Wolverines ended the Nittany Lions' season Sunday night.
Eight different Nittany Lions scored a goal, while Liam Souliere posted a 24-save shutout in Allentown.