Eat Your Alcohol
For some reason, college students are always looking for a different way to consume their alcohol. Boredom with kegs and bottles has led to such inventions as the five-way beer bong, SLIZ cup, and this glorious tribute to look-Ma-no-hands laziness.
So, it's only natural that booze enthusiasts would develop ways to, more or less, eat your alcohol. Here's a few ideas to freshen up your next party:
Vodka-soaked Gummy Bears
Do you remember the first time you tried one of these? I remember being blown away by how easy to make and delicious these treats were. Just put the gummy bears in a glass container and fill it with enough vodka to cover them (the more vodka, the stronger they taste). Wrap the dish up with plastic wrap and stick it in the refrigerator for a few days or until the gummy bears have soaked up a majority of the vodka. You can also substitute the vodka for other varieties of alcohol. Check a full listing of options here.
Rum Ham
Take it away, Mac and Frank.

Beersicle
If it ever warms up around here, this could be an enticing treat. Ideally, you would want to use popsicle molds, but I understand if you don't have a set of those just lying around. Try using plastic cups with spoons sticking out or make smaller ones with ice cube trays and toothpicks. For better results and taste, use a beer with a low alcohol content (i.e. Leinenkugel's Summer Shandy).
Pudding Shots
A great choice for the drunken dessert lover, and a true temptation for the calorie counter. These shots would be a perfect surprise for anyone's 21st birthday, though. And with numerous amounts of pudding and liquor flavors, the pairings are endless. Check out some combinations from The Campus Companion.
Jell-O Shots
Always dangerous, always delicious. Find 21 college-friendly recipes here. Extra point for adding Jell-o shots in the shells of oranges or hollowed out strawberries. You can also add Red Bull for a kick of energy.
Vodkamelon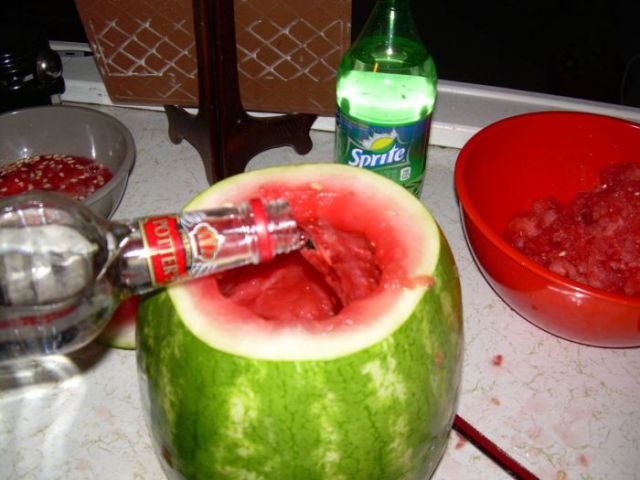 Hopefully you're not trying this one because of the lack of fruit in your diet. This one will involve some cutting and a little bit of patience. However, the reward will be worth the careful craftsmanship. Here's three options on how to spike your melon.
Liquor Lollipops
How many slurred words and drunken giggle fits does it take to get to the alcoholic center of a Tootsie Pop? Use this recipe and find out.
Any other creative ways to "eat" your alcohol that we left out? Let us know in the comments or on Twitter.

Your ad blocker is on.
Please choose an option below.
Sign up for our e-mail newsletter:

OR
About the Author
Underwood is bringing her "The Denim & Rhinestones" tour to Happy Valley next spring.
Underwood is bringing her "The Denim & Rhinestones" tour to Happy Valley next spring.
"Jana Marie Foundation harnesses the power of creative expression and dialogue to spark conversations, build connections, and promote mental well-being among young people and their communities."
Some of our freshman staffers sat down and reflected on their first year in Happy Valley.