Penn State in the NFL: Thanksgiving Update
Penn State has had a long-standing tradition of sending quality players to the NFL, and the 2013 season is no exception. Highlighted by stellar performances from linebacker Paul Posluszny and NaVorro Bowman, as well as quarterback Matt McGloin's incredibly rise to stardom, former Nittany Lions are making their presence felt around the league:
When you talk about Penn Staters making an impact in the NFL this season, you have to start with Matt McGloin. The former walk-on rose through the Oakland Raiders depth chart and started his first game against the Houston Texans, posting a 28-23 win. While McGloin wasn't as successful against the Tennessee Titans, he seems to have solidified his role as the Raiders' starting quarterback and will be under center when Oakland takes on the Dallas Cowboys on Thanksgiving Day in a nationally-televised game.
McGloin is completing 55.7 percent of his passes for 544 yards this year and has thrown four touchdowns to go with only one interception. He might have an easier time playing against Dallas on Thursday, because linebacker Sean Lee was ruled "out" for the Thanksgiving Day game. Lee's standout season — in which he has 93 tackles and four interceptions — was disrupted two weeks ago when he injured his hamstring against New Orleans.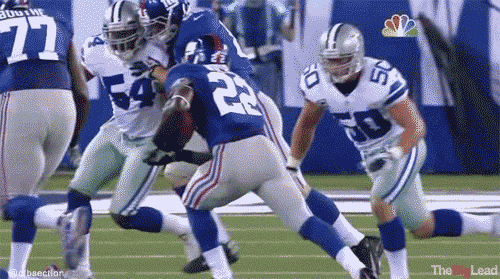 Lee isn't the only former Nittany Lion that has caught the injury bug unfortunately, as Kansas City Chiefs defensive end Tamba Hali suffered an ankle sprain in last week's loss to the San Diego Chargers and is questionable for this Sunday's showdown with the Denver Broncos. Hali has tallied 35 tackles on the year to go with nine sacks, four forced fumbles, and one interception.
Linebacker Paul Posluszny continues to be the lone bright spot on a struggling Jacksonville Jaguars team, totaling 102 tackles and two interceptions on the year.
San Francisco 49ers linebacker NaVorro Bowman is thriving in San Francisco, totaling 100 tackles, as well as two forced fumbles and two sacks to date. Bowman is recognized as one of the premier linebackers in the NFL and is certainly one of the best representatives of Linebacker U at the pro level.
After overcoming a serious illness, fullback Michael Robinson is back with the Seattle Seahawks. Robinson only has one rush and one reception on the year, but has helped as a blocker, leading the way for running back Marshawn Lynch to rush for 925 yards and nine touchdowns. Seattle is 10-1 on the year and the favorite to win the NFC conference title.
Rookies Michael Mauti and Gerald Hodges continue to play limited roles on the Minnesota Vikings' defense. Mauti has tallied 11 tackles on the year and has been on the active roster for the last nine games. Hodges has been active for the last six games and has recorded four tackles.
Defensive linemen Jared Odrick and Cameron Wake have both had solid years to date. Wake has 21 tackles so far and has recorded 6.5 sacks. Odrick has tallied 32 tackles and 4.5 sacks while being listed as second on the depth chart.
The journey of Buffalo wide receiver Chris Hogan is not your conventional Penn State football story. Hogan wasn't recruited to play football at Penn State, and instead chose to play varsity lacrosse for the Nittany Lions, where he was an All-American. After graduating with a Penn State degree, Hogan went to Monmouth University to play one year of football. He went undrafted, and bounced between teams for almost two years. The Bills eventually signed Hogan at the end of 2012, and he has played in all 11 games this year. Hogan has seven receptions on the season, totaling 63 yards.
Other notable former Nittany Lions:
Derek Moye (Pittsburgh Steelers): 2 receptions, 20 yards, 1 touchdown.
Andrew Quarless (Green Bay Packers): 16 receptions, 123 yards.
Robbie Gould (Chicago Bears): 19/20 on field goals, 30/31 on extra points, long of 58 yards.
Devon Still (Cincinnati Bengals): 7 tackles.
Dan Connor (New York Giants/Carolina Panthers): Connor was signed by the Panthers after being released by the Giants. Connor has been hindered by a neck injury and only has three tackles on the year.
Your ad blocker is on.
Please choose an option below.
Sign up for our e-mail newsletter:

OR
About the Author
The Nittany Lions have thrived off short-gain plays and taking advantage of what opponents give them.
From almost getting hit by a CATA bus to leaving your winter coat at home, we compiled a list of Penn State canon events.
Why should a campus this big only have a few geofilters?