Onward Stats: Penn State and Rutgers
On Tuesday, we offered some advice about going to Rutgers with class this Saturday, something that may be hard to find at High Point Solutions Stadium sometimes. We wanted to follow-up on that article and include some stats and charts to cite when someone clad in scarlet tries to convince you that "Penn State sucks." Just in case being ranked No. 8 in the nation isn't enough.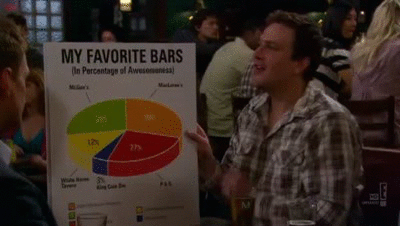 ---
Rutgers, one thing you will always have on Penn State is that you won the first college football game and that New Brunswick is the Birthplace of College Football. For that, we commend you.
---
Just because the Scarlet Knights' history is longer doesn't mean it's better. Come on Rutgers, you had a 18-year head start! That's almost half of Joe Paterno's career as head coach!
---
Even when Penn State was at its worst and faced fines and scholarship reductions while Rutgers enjoyed one of the program's few respectable periods, the two teams had comparable records during the sanctions era.
---

Not only is Beaver Stadium more than twice the size of High Point Solutions Stadium, Penn State manages to fill it significantly better than Rutgers does in its much smaller abode, which isn't even large enough to fit all of the students enrolled at University Park. Too bad Saturday's game is in Piscataway because legions of Penn Staters would've gladly made the three-and-a-half hour drive.
---
Against Ohio State, Michigan, Iowa, and Michigan State this year, Rutgers scratched across just seven points. Comparatively, Penn State has scored 75 points in those games, despite having yet to even play Michigan State.
---
Not only do Penn Staters succeed in college football, far more have been drafted and given the opportunity to continue their careers in the NFL. There are currently 31 former Nittany Lions in the NFL compared to 18 former Scarlet Knights.
---

If you want to know how rough this season has been for Rutgers, we had to invert the R two and a half times for this graph because of how great the margin is.
---
Although Donald Trump's presence is bigly felt throughout New Jersey with his golf courses and former casino, the president-elect has an affinity for "great Penn State University." Better yet, he included an Onward State article in his tweet.
The weak jokers who so badly hurt great Penn State University should have fought the NCAA instead of making a deal- http://t.co/b9E5eC9pam

— Donald J. Trump (@realDonaldTrump) November 5, 2014
---

Let the Rutgers fans have their classless fun by saying "Joe Knew" and "F— Penn State." Considering that they were chanting it in the fourth quarter of the Scarlet Knights' 78-0 loss to Michigan, expect to hear it all night on Saturday. In reality, Penn State leads the series 24-2 and has won the last nine meetings. Talk is cheap and stats don't lie.
---
Your ad blocker is on.
Please choose an option below.
Sign up for our e-mail newsletter:

OR
About the Author
"Penn State is going to be back to the tournament."
"Penn State is going to be back to the tournament."
The Nittany Lions' postseason run came to an end Saturday night in Des Moines largely due to 28 points from Longhorn Dylan Disu.
"I feel like [Harrar] is a huge part of this run that we're on right now. Even though he's not on our team, he's still a huge part of this."