'Parks & Rec' & Economics?: Professor Jadrian Wooten To Debut First Book
Penn State economics professor Jadrian Wooten knows a thing or two about ~the economy~. Now, he's connecting his passion for econ with literally one of his favorite shows.
Wooten is in the process of publishing his first book called – you guessed it – "Parks and Recreation and Economics." His book will be a part of series through Routledge, which features books on economics that connect to other mainstream media topics.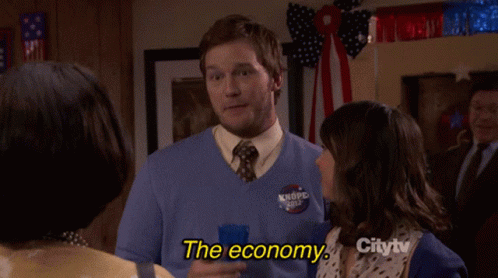 In case writing a book on the hit NBC comedy doesn't prove how much he loves the show, Wooten previously surprised his students with a video of "Parks and Recreation" star Jim O'Heir — better known as Gary Larry Terry Barry Jerry Gergich. O'Heir wished Wooten's students luck at the start of the fall semester.
However, Wooten didn't initially watch the show when it first premiered. It wasn't until the third season of "Parks and Recreation" that he started to get into the show and thought that the material could apply to his teaching lessons, which he found to be a success.
"I started to realize that there's some clips and scenes that work. I've always used a lot of media in my classes," Wooten said. "It's not all 'Parks and Rec'…but I started to use a couple of them in class, and it went really well."
A few years ago, he and a fellow professor had talked about creating a website that features clips from "Parks and Recreation" and teaches other professors how to incorporate them into their classrooms.
Toward the end of 2019, Routledge reached out to Wooten and asked if he'd be interested in writing a book. Naturally, Wooten was on board.
"I've always, in the back of my mind, kind of wanted to write a book, but I'd never done it…the pandemic, I guess, happened at a good time. I had free time, and I wasn't going anywhere," Wooten said.
During a usual fall semester, Wooten would spend his weekends going to local football games. But because of the coronavirus pandemic, he spent most of his weekends writing.
Once he accepted the offer, Wooten needed to submit a proposal for the book to be reviewed by other professors before the writing process could begin. After that, it took him about six months to write the book, and it will take about another six months for Routledge to copyedit, proofread, and typeset it.
"Parks and Recreation and Economics" is based on a series of economics books through Routledge. Other books showcase how topics like Broadway, "Seinfeld," and superheroes all connect to the context of economics. Wooten's version will relate to most of the introductory content taught in his ECON 102 course: Intro to Microeconomics.
The book primarily focuses on characters Leslie Knope and Ron Swanson, their political beliefs, and how they relate to the subject of economics. It also helps that the show features the divisive nature of government, which also relates to economics.
"The setup of the show is very, like, democrat [versus] republican, conservative [versus] liberal — that kind of mindset already. Econ already has that kind of built into it," Wooten said. "There's a lot of stuff about fairness versus efficiency, like, that's the main theme of it.
"If policy is going to be created, should we do it to make the country big or should we do it to make everything more fair? That's really kind of the Ron and Leslie story is like 'Should government be for the people or should it be for businesses?'"
Wooten intentionally wrote "Parks and Recreation and Economics" to include at least some aspect of every episode of the series into his book, even if every episode doesn't pertain to economics. This required him to rewatch most of the entire series.
"That's probably why it took so long [to write]," Wooten joked. "As I was going back through, there were definitely scenes that I already knew about for sure…So, what I did was I basically rewatched the ones that didn't have any mention in the book."
No book about "Parks and Rec" could be complete without the perfect cover of a beautiful stack of waffles from JJ's Diner (IYKYK) because there's nothing more important in life than friends, waffles, and work. Or waffles, friends, and work. It doesn't matter as long as work is third.
I have been anxiously waiting to share the book cover with everyone. Here it is! It feels like a nice inside joke with other people who love Parks & Rec. pic.twitter.com/6WIETsFlXT

— Jadrian Wooten (@Wootenomics) February 24, 2021
However, having a picture of Jean-Ralphio Saperstein saying, "I got run over by a Lexus" would be the next best option for the cover of a book about one of the greatest shows ever. Maybe for your next book, Professor Wooten?
I would have also accepted an image of john ralphio saying "I got run over by a Lexus!"

— The Mouse of Prophecy (@prophecymouse) February 24, 2021
Wooten doesn't plan to incorporate his book into his introductory econ lectures because he likes to keep his classes as cheap as possible and will tell his classes about the book anyways. But he said that he would love to teach a course similar to one taught at Georgia College called "Swansonomics," a course dedicated to the show and the libertarian beliefs of character Ron Swanson.
"The entire course is [an] intro to economics based on 'Parks and Recreation,'" Wooten said. "So, that's on the schedule as a 'Parks and Rec' class. If I taught that course, one hundred percent I would use the book. But for my main principles class, I'm not going to."
"Parks and Rec" ended six years ago, but that doesn't mean that the show's content isn't relevant or won't continue to be relevant in the future. Wooten believes that individual examples that come from an episode "The Soda Tax" will be applicable in the future because it's a topic that is widely discussed.
Oddly enough — though no one could have predicted it then — the season two episode, "Flu Season," is also significant to the current pandemic. Rob Lowe's character, Chris Traeger, talks about wearing a mask to protect others from getting sick.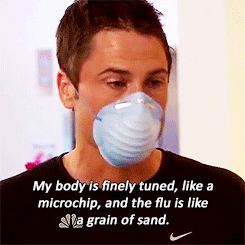 "This is so weird to be, like, in the middle of this pandemic, talking about why we wear masks…[Chris] is dropping that same argument of, 'I don't wear the mask to protect myself. I'm wearing it to protect other people,'" Wooten said.
However, the premise of the series' final season, for example, which focused on a tech company called Gryzzl, might become irrelevant as technology advances — although it was "cool" at the time.
"You know, when I think about when 'Parks and Rec' would become not relevant, it's really what they did in the last season with all of the stuff on Gryzzl and like tablets and drones. I could easily see that stuff like in 10 or 20 years we look back and go, 'Look how dumb that looks,' Wooten said with a laugh.
"Parks and Recreation and Economics" will be released on June 30. Pre-orders are open on Amazon, Barnes and Noble, and Walmart's websites.
Your ad blocker is on.
Please choose an option below.
Sign up for our e-mail newsletter:

OR
About the Author
In case you somehow missed it (shame on you), Penn State's 2021 White Out was off the chain, baby.
In case you somehow missed it (shame on you), Penn State's 2021 White Out was off the chain, baby.
Penn State won its third straight game to open the season Saturday night.
Welcome to the White Out.