Comparing Saquon Barkley To Some Of Penn State's All-Time Greats
Names like Larry Johnson, Ki-Jana Carter, and Curtis Enis are synonymous with greatness at Penn State. When studying how the electric Saquon Barkley hits the hole and charges downfield, it's clear his style of play is eerily reminiscent to those aforementioned legends. 310 yards and three touchdowns on just 33 carries is no fluke — this kid is for real. Let's break down the intricacies of Barkley's game, and compare it to the running styles of some of the legends that came before him.
The first impressive trait that stands out in Barkley's game is the conviction he shows when hitting the hole, and the incredible vision that's needed to make such swift cuts in limited space. Watch below as Barkley scores the first of his two touchdowns against Rutgers. The sweep is disrupted by a free linebacker, but Barkley has both the awareness and quickness to dart left and jet through the closing running lane in front of him.
When compared to Johnson's style of running, Barkley's game stacks up well. Like Johnson, he can turn small holes into large gains thanks to his shiftyness, and hard-charging running style. As Johnson did in the play below, Barkley can sniff out space after contact, staying upright while making a decisive first cut, and finding open running room at the second level. Built in a similar fashion to Johnson — save for about 15 pounds — Barkley has the strength to shake tacklers, a trait Johnson became famous for during his time as a Nittany Lion.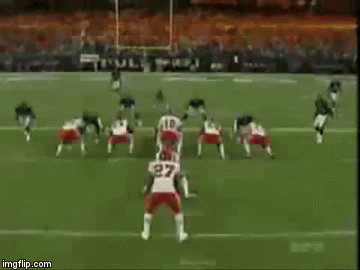 There's another characteristic of Barkley's game that separates him from the rest of the field is his ability to charge north and south, making him nearly impossible to bring down. While most runners with his speed look to dance around defenders, early indications say Barkley favors doing the opposite, wasting no time as he barrels downfield. As opposed to the first, this run proves Barkley isn't all moves; the kid isn't afraid to simply run through defenders.
Watch as Barkley blows by the crashing safety, bursting through the second level at full speed. Granted the run comes inside the redzone, it still puts his straight-line speed on display.
Barkley's style is reminiscent of Penn State all-time leading rusher Evan Royster, who is build in a very similar mold. Both show great balance through contact, and possess the ability to flip the switch quick after finding a seam.
Just as Royster did against Michigan in capturing the rushing record, Barkley did against Rutgers to establish himself as one of the most exciting young backs in the nation. There are certain elements of the game you simply can't teach, and Barkley is polished in most of those aspects.
Though he's still in the very early stages of what could be a fruitful career, Barkley exemplifies all the physical traits of some of the best to do it in Happy Valley. While there's still plenty of football left to be played for Barkley, there's a chance that his name could end up in the same sentence as the legends that came before him if his accelerated development continues.
Your ad blocker is on.
Please choose an option below.
Sign up for our e-mail newsletter:

OR
About the Author
Jason Nolf, Bo Nickal, and Anthony Cassar all finished the NCAA Championships atop the podium for Penn State wrestling.
"Whatever I can do to help Penn State and give back, that's the mission."